District Brewing Co. Celebrates One-Year Anniversary... Again!
---
---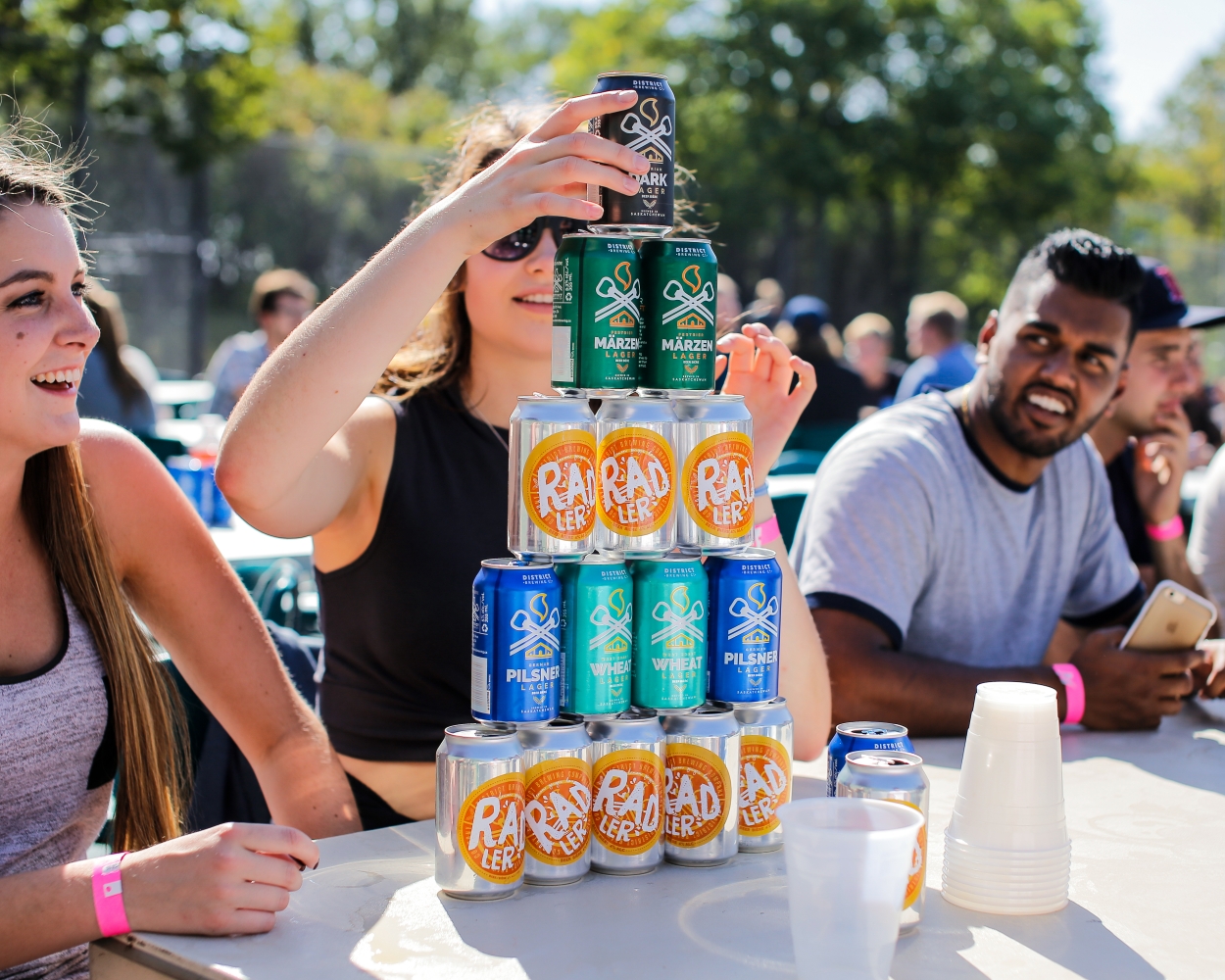 As the 2017 year comes to a close, we'd like to take the time to thank you, our steadfast supporters, for standing by us through a momentous year of embracing our philosophy to rebrand, grow and further connect with our local Saskatchewan community.
This December celebrates District Brewing Company's one year anniversary of the brewery's rebrand. It was around this time last year when District introduced its current line-up of beer brands under the District Brewing Co. company umbrella.
The decision to rebrand ourselves came after long concerted efforts to unify the brewery's identity and also to distance itself from its former, controversially received name "Mus Knuckle." This name, a bit notorious and lewd, was the name of our brewery's only beer and brand at the time. Hailing from the first craft brewery established in Regina, the Mus Knuckle helles lager was the brewery's first beer ever made and one that was widely consumed before its production terminated last year.
Here at District Brewing Co. we decided to halt production of the beer. Although it had its dedicated consumer base, the beer was often a troubling beer to market. Since then we've focused on crafting and perfecting our four new and delicious core beers: the German Pilsner, the Festbier Marzen lager, West Coast Wheat lager and Bavarian Dark lager.
After successfully marketing and distributing these, we've launched a number of seasonal, small-batch brews, including: a Lemon Ginger Radler, an English Session IPA, Whiskey Barrel Aged Dunkel, and more. By unifying the brewery as one company and one brand, we hoped to move away from any confusion with "Mus Knuckle" and propel our success forward under one company name.
As a result, we've streamlined our marketing efforts and elevated the success of all our beers. This year our Bavarian Dark lager won 1st place in the European Beer category at the Winnipeg Brew Bomber's Pro/Am Brew Challenge, and our Lemon Ginger Radler won 3rd in the Fruit Beer category.
The shift away was not easy, and the decision to stop brewing Mus Knuckle was difficult. The beer had a loyal customer base who wholeheartedly enjoyed the beer and it's branding. For a while it was a notable beer—one that was synonymous with District Brewing. However, it was with your dedication and support for us through the change that District Brewing Co. today has found success. Those who were fans of Mus Knuckle can now enjoy our Pilsner lager which is strikingly similar.
A testament to this is our dedication to choosing local, when possible. We brew with local ingredients, distribute to local establishments, and serve the Saskatchewan population. At District, our changes didn't simply include our rebranded beers; we are invested in supporting and contributing to our community and Saskatchewan economy. These efforts have included sourcing our marketing materials from local print shops, hiring a local carpenter to manufacture our tap handles and sandwich boards and making an active contribution to the entire Saskatchewan economy by creating more labour.
As we prepare for 2018 and what we have in store, we'd like to take a moment to reflect and thank all the hard-working individuals and small businesses vendors that have helped District find success this past year.
Our company strategy has evolved to focus on creating sustainable, long-term employment for the people of Saskatchewan. We strongly believe that if we invest our resources in employment then we can help drive the local economy.
"According to the Labor Force Survey (2015) part 2.2, small businesses account for 97.9% of all firms in Canada and play a large role in net job creation. From 2005-2015, small businesses consistently outperformed medium and large-sized businesses in terms of employment growth. As of 2015, small businesses employed over 8.2 million people in Canada."
As we rely on the Saskatchewan people to support us, we make an active effort to support local wherever possible.
It is with you, our dedicated beer drinkers and local-business supporters, that we've experienced significant growth and success this past year. With 2018 on the way we can't wait to grow even more and share that with all of you! Looking forward, we hope to expand our contract brewing services, private label beer and custom label beer, our partnerships and event sponsorships, and of course test out some new recipes in the kettle.
But it's all thanks to you, our primary supporters. You were there from the beginning—through management changes, the production of new beer brands, and a reinvigorated philosophy to guide our work—and the many seasons in between.
— From District Brewing Co. we wish you and your family Happy Holidays!
---