Private Events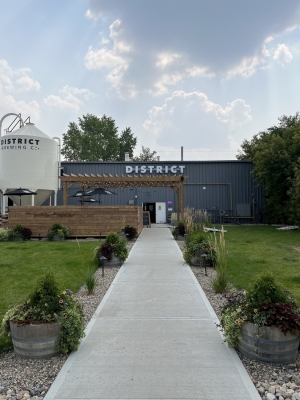 Host Your Exclusive Event at District Brewing Company: Unforgettable Moments Await
Are you in search of the perfect venue to host your upcoming event? Look no further than District Brewing Company, where we seamlessly blend exceptional craft beer, a stunning outdoor garden, and a welcoming atmosphere to create a one-of-a-kind experience. Whether you're planning a corporate gathering, a milestone celebration, or a special get-together, our versatile space has you covered.
Private Event Details
Venue Capacity: Our exterior area can accommodate up to 125 guests, allowing you to celebrate with a larger group. If you're looking for a more intimate setting, our interior space comfortably accommodates up to 40 guests.
Wide Beer Selection: Immerse yourself in the flavors of District Brewing's signature craft beers. From rich ales to crisp lagers, our diverse selection caters to every palate. Additionally, we proudly feature local Saskatchewan liquor and beverage options to further enhance your guests' experience.
Family-Friendly Environment: We embrace families and offer a kid-friendly atmosphere. While children are welcome, we kindly request that they be accompanied by a parent or legal guardian at all times.
Local Food Catering: We believe that great beer deserves great food. Partnering with local food catering companies, we offer a wide range of culinary options to suit your event's theme and preferences. From delectable appetizers to full-course meals, your taste buds are in for a treat.
Outdoor Garden and Lawn Games: Our outdoor garden provides a picturesque backdrop for your event. Lush greenery, vibrant flowers, and a relaxing ambiance set the stage for your celebration. To add an element of fun and engagement, we offer lawn games that guests of all ages can enjoy.
Booking Your Event
Planning your private event at District Brewing Company is a breeze. Our dedicated events team is committed to making your vision a reality. Simply reach out to us at 306-790-2337 or via email at [email protected], and we'll be thrilled to discuss your event's details, preferences, and requirements.
With our beautiful outdoor garden, a diverse range of beverages, and the inviting ambiance of our interior space, District Brewing Company is ready to host a memorable event that your guests will cherish. Create lasting memories, indulge in remarkable craft beer, and relish the experience of an event that's truly tailored to your desires.
Book your private event with us today and embark on a journey of celebration, flavor, and togetherness. Your extraordinary event awaits at District Brewing Company.
---